Introduction
This cable is used to transmit power on the power transmission and distribution line of A.C.50Hz, rated voltage 36kV or lower. They are suitable for installations indoors: mostly in power supply stations and outdoors: in cable ducts, underground, and on cable trays for industries, switch-boards and power stations.
Executive standard
IEC60502-2 Power cables with extruded insulation and their accessories for rated voltages from 1 kV (Um = 1,2 kV) up to 30 kV (Um = 36 kV)
Part 2: Cables for rated voltages from 6 kV (Um = 7,2 kV) up to 30 kV (Um = 36 kV)
Instruction of application
Rated Voltage:
● 3.6/6 (7.2) kV
● 6.0/10(12) kV
● 8.7/15(17.5) kV
● 12/20(24) kV
● 18/30(36) kV
The ambient temperature for cable installation :≥0 0C
This minimum working temperature of the cable is -20 0C
This maximum working temperature of the conductor is 90 0C;
During having a short (lasting less than 5 seconds) the maximum temperature of the cable conductor shall not be above 250 0C;
Bending radius allowance of the cable:
Type of cable
Minimum Bending Radius (mm)
During Installation
Adjacent to joints or terminals
Single Core Cables
15D
12D
Three Core Cables
12D
10D
Cable Construction Description
Conductor
Class 2 stranded circular or circular compacted
Semi-Conductive Layer for Conductor
Semi-conductive material
Insulation
XLPE (Cross-Linked Polyethylene)
Semi-Conductive Layer for Insulation
Semi-conductive material
Metallic screen
Copper wires / Copper Tape / Copper Wire & Tape
Inner Sheath
PVC (Polyvinyl Chloride)
Amoured
STA- Steel Wire Amoured
Non-magnetic amoured material used for single core cable.
Outer Sheath
PVC (Polyvinyl Chloride)
The conductor Semi-Conductive Layer, XLPE insulation and the insulation Semi-Conductive Layer are extruded simultaneously in one process using triple extrusion method (Continuous Vulcanization Line). Triple extrusion method not only assures clean interfaces between the insulation and stress control layers, but also assures a construction free of Partial Discharge with high operational reliability.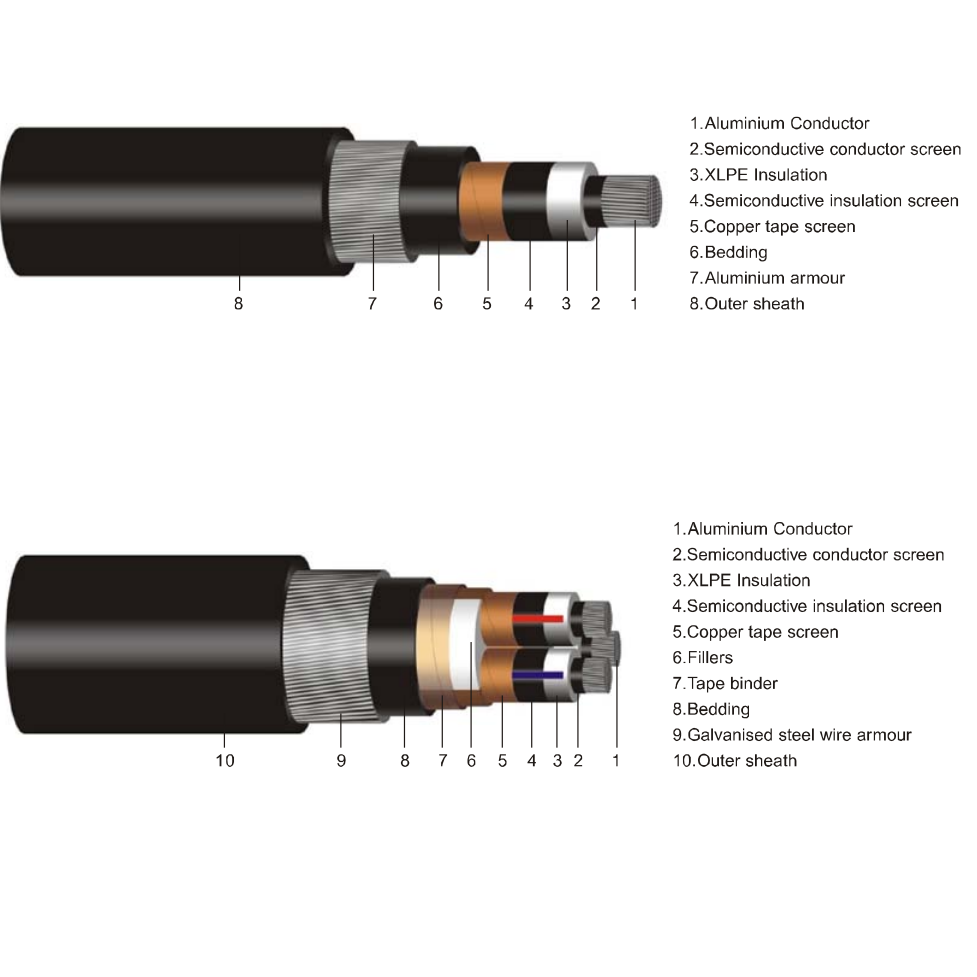 The Main Technical Parameter Of The Cable
1) Cable conductor DC resistance: See the table 1-1
2) Partial discharge test: See the table 1-2
3) AC voltage test: See the table 1-3
4) Rated Voltage,Core Numbers & Nominal Cross-section Area : See the table1-4
Table 1-1 Max. DC resistance of cable conductor at 200C
Rated cross area
(mm2)
16
25
35
50
70
95
120
150
Cu
(Ω/km)
Non tinned
1.15
0.727
0.524
0.387
0.268
0.193
0.153
0.124
Tinned
1.16
0.734
0.529
0.391
0.270
0.195
0.154
0.126
Al (Ω/km)
1.91
1.20
0.868
0.641
0.443
0.320
0.253
0.206
Rated cross area
(mm2)
185
240
300
400
500
630
800
1000
Cu
(Ω/km)
Non tinned
0.0991
0.0754
0.0601
0.0470
0.0366
0.0283
0.0221
0.0176
Tinned
0.100
0.0762
0.0607
0.0475
0.0369
0.0286
0.0224
0.0177
Al ( Ω/km)
0.164
0.125
0.100
0.0778
0.0605
0.0469
0.0367
0.0291
Table 1-2 Test Voltage & Max. Discharge capacity of cable
Rated Voltage
(kV)
3.6/6
6/6
6/10
8.7/10
8.7/15
12/20
18/30
21/35
26/35
Test Voltage
(kV)
6.23
10.38
15.05
20.76
31.14
36.33
44.98
Discharge capacity
(pC)
10
10
10
10
10
10
10
Table 1-3 AC voltage test of cable
Rated Voltage
kV
3.6/6
3.6/10
6/6
6/10
8.7/10
8.7/15
12/20
18/30
21/35
26/35
Test Voltage
kV
12.5
21
30.5
42
63
73.5
91
Test Time
min
5
5
5
5
5
5
5
Table 1-4 Rated Voltage, Core Numbers & Nominal Cross-section Area
U0/Um Area mm2
3.6/6
6/6
6/10
8.7/10
8.7/15
12/20
18/20
18/30
21/35
26/35
Core No.
1
25-630
25-630
35-630
35-630
50-630
50-630
50-630
3
25-400
25-400
35-400
35-400
50-400
50-400
50-400